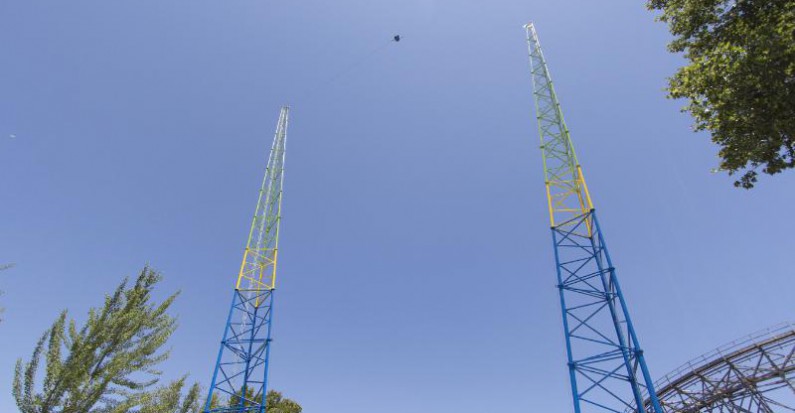 Carowinds Announces Second New Ride for 2015
CHARLOTTE, N.C., Dec. 10, 2014 /PRNewswire/ — As Carowinds construction crews build the world's tallest and fastest giga coaster, Fury 325, the park announced a second new ride Wednesday called the SlingShot. It will also debut in the Spring of 2015.
A pair of cables will catapult the two-person capsule nearly 300-feet into the air – nearly as high as the Statue of Liberty – at speeds up to 60 mph. After some brief weightlessness, riders will zoom back toward the ground, often rotating head-over-heels and bouncing up and down until they come to rest at the launch point.
The ride will be an additional charge attraction; costs are being determined. SlingShot marks the second new ride at Carowinds for 2015.
"Carowinds will be a destination for thrill-seekers," says Mike Fehnel, Carowinds' vice president and general manager. "We'll have two of the 10 tallest rollercoasters in North America, a total of 14 roller coasters – which is something that only three parks worldwide can top – and now we'll have two new ways for riders to scream with joy at roughly 300 feet in the air."
Like Fury 325, the SlingShot will be visible from uptown Charlotte, renewing the park's skyline along Interstate 77 and serving as a symbol of changes to come. The new rides are part of a planned $50 million multiyear investment plan to bring new life to founder Pat Hall's original vision for Carowinds. The park is being revamped from top to bottom to celebrate Carolina culture, including new rides, attractions and food from different regions.
For more information, please visit www.carowinds.com.