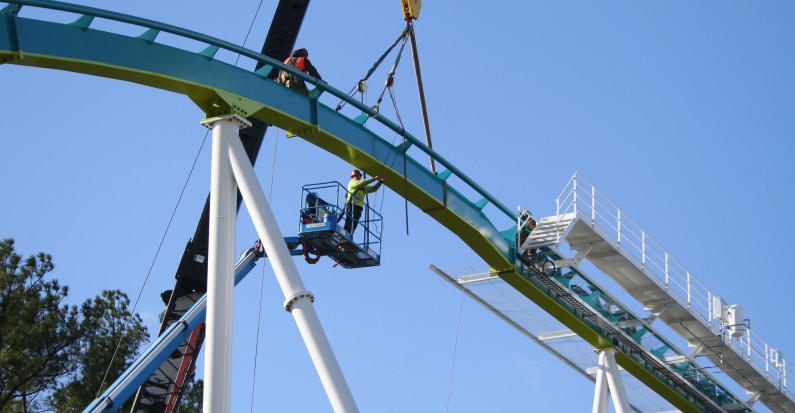 Carowinds Completes Track for Record-Breaking Roller Coaster
Reporters on hand got a hard hat tour at Carowinds on Friday, January 30, capturing incredible visuals as construction crews install the final piece of Fury 325 – the world's tallest and fastest giga coaster.
The 6,602-foot ride reaches 325 feet at the top of its biggest hill, a summit 20 feet taller than the Statue of Liberty. After the initial 63-second ascent, Fury 325 will simulate the wild, daring and spontaneous flight of the hornet. The coaster will plunge down an 81-degree drop, reaching speeds up to 95 mph as it races through a series of hills, curves and quick transitions. All told, it will take each 32-passenger open air train nearly 3.5 minutes to complete the ride.
The only thing as impressive as the ride, however, has been the construction.
Consider these facts:
4.265 – million pounds of steel used to build the ride (2,133 tons)
60,000 – hours needed for workers to complete installation
15,500 – high-strength bolts that hold in place a total of 192 track elements that must fit precisely together end-to-end
3,400 – gallons of paint used
50 – engineers from the industry leader in roller coaster development who worked for 12 months on the dynamic design, engineering and fabrication drawings
200 – workers required to complete the fabrication over a 12-month stretch
Carowinds now has 14 roller coasters – a total topped by only three parks worldwide – and Fury 325 marks the latest one designed and manufactured by Bolliger and Mabillard (B&M) of Monthey, Switzerland, a recognized industry leader in roller coaster development. The firm also brought Vortex to Carowinds in 1992, Afterburn in 1999, and The Intimidator™ in 2010.
Fury 325 is also part of a $50 million multiyear investment to bring new life to founder Pat Hall's original vision for Carowinds, which called for giving enjoyment to millions of Carolinians. The park is being renovated from top to bottom to celebrate Carolina culture, including new rides, attractions and food from different regions. Fury 325 will be the centerpiece of a new, 8.2-acre main entrance plaza that includes more than 900 parking spaces closer to the gate, upgrades to improve traffic flow and expanded guest service facilities.