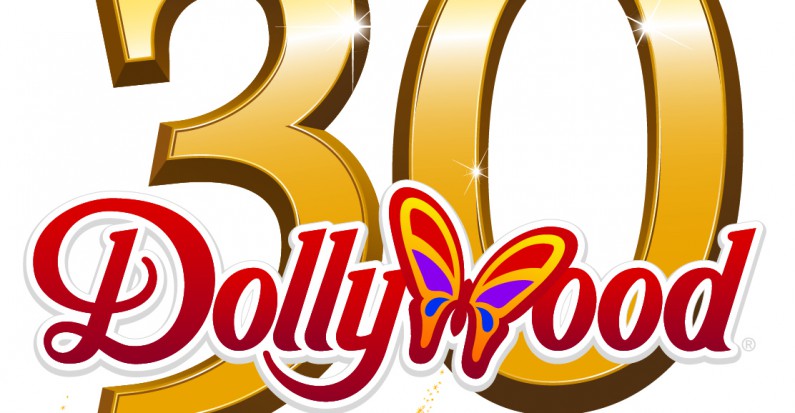 DOLLYWOOD ANNOUNCES SEASON-LONG ANNIVERSARY CELEBRATION FOR 2015
PIGEON FORGE, Tenn. (December 10, 2014) — Dollywood celebrates its 30th anniversary season in 2015 with a festive nod to its past while unveiling a new project designed to enrich the award-winning theme park for years to come. Officials today announced an impressive schedule for the upcoming season, including a new contemporary Christian music event, as well as plans for a $5.5 million project to enhance the guest arrival experience.
Upon their entrance to Dollywood in 2015, guests will find larger and more easily navigable parking facilities, along with new trams to more efficiently transport them to the front gate.
"When we opened Dollywood in 1986, I was just hoping we would have people come through the gate that first day," Dolly Parton said with a laugh. "At the time, even I couldn't dream of how much folks would love visiting my Dollywood. I truly can't think of a better way to celebrate our 30th anniversary than by giving our guests these wonderful festivals, a new music event and, of course, the opening of Dollywood's DreamMore Resort. I'm ready to get started on 30 more years of dreaming!"
On Sept. 5, Dollywood's Rock the Smokies features inspiring contemporary Christian music on stages throughout the park for an incredible time of praise and worship. With a powerful combination of thrilling attractions and dynamic music, Dollywood provides the perfect location for this amazing Labor Day weekend event. Area church youth groups should plan to cap off the summer with this energizing event which is sure to become a hit.
Festival of Nations kicks off Dollywood's 30th anniversary season (March 21- April 20) with many returning guest-favorite acts from the festival's colorful history. One of Dollywood's most popular Festival of Nations performing acts, Rhythm of the Dance, returns to mark this special occasion. A Celtic music and dance spectacular, the elaborate stage show celebrates Ireland with a high-energy show featuring authentic instrumentalists, vocalists and dancers. Other returning selections include a steel drum band from Trinidad, The Mariachi Divas and Zambian Vocal Group. New this year is Timber!, a colorful and energetic show which displays epic feats of agility and strength mixed with a traditional French-Canadian soundtrack.
Dollywood's Barbeque & Bluegrass (May 23- June 7) marks the beginning of summer and combines the best in bluegrass with the tastiest barbeque in the south! Opening on Memorial Day weekend, Barbeque & Bluegrass features Dollywood's best bluegrass lineup ever with many concerts from International Bluegrass Music Association award winners. Aspiring chefs will enjoy cooking demonstrations by championship-winning barbeque experts from across the country.
Families love spending time together at Dollywood and Great American Summer (June 13-Aug. 2) is designed to give them even more of what they want! Longer park operating hours—10 a.m. to 10 p.m. daily—provide the perfect atmosphere to enjoy Dollywood's world-class rides, shows and attractions. The park's festive nightly fireworks extravaganza has been reimagined to feature new music and interactive elements to celebrate Dollywood's 30th anniversary.
With a colorful swatch of orange, red, yellow and gold painted across the Smokies, perhaps the most beautiful time of year to visit Dollywood is during the National Southern Gospel & Harvest Celebration (Oct. 2– Oct. 31). The sounds of beautiful Southern gospel music ring through the park with multiple free concerts during this festive event, while additional entertainment comes courtesy of special performances by guest artists from Dollywood's past 30 years!
A seven-time winner for Best Christmas Event, Dollywood's Smoky Mountain Christmas presented by Humana (Nov. 7 – Jan. 2, 2016) features four million holiday lights and spectacular holiday performances, including Dollywood's A Christmas Carol, with Dolly Parton's hologram as the Ghost of Christmas Past. Guests also can experience the fun and excitement of Rudolph The Red-Nosed Reindeer and his friends who return after their overwhelmingly-popular debut appearance in 2014. From the award-winning shows and elaborate holiday decorations to the twinkling lights and Christmas-themed menus, Dollywood captures the essence of Christmas.
For more information about Dollywood's 30th Anniversary Season, please visit www.dollywood.com or call 1-800-DOLLYWOOD.