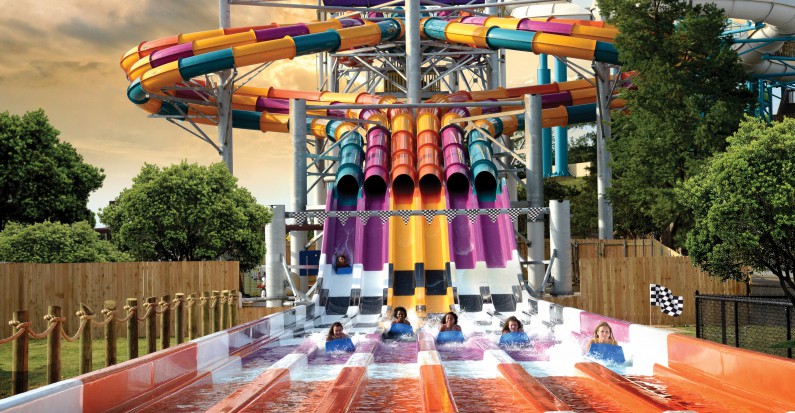 Intense and Snake-Like Mega Water Slide Complex to Debut at Six Flags White Water in 2016
MARIETTA, Ga.–(BUSINESS WIRE)–Recently named one of the Top 10 Amusement and Water Parks in the country, Six Flags White Water is off to the races in 2016 with the addition of the all-new Wahoo Racer. The thrilling multi-lane water slide complex will be the largest in the world and add to the park's impressive line-up of more than 50 slides and attractions at the South's Most Thrilling Water Park. "This new massive water slide complex will provide our guests the chance to challenge friends and family members for the ultimate crown of Wahoo Racer champion," said Six Flags Atlanta Properties Park President Dale Kaetzel. "Our new slide complex continues our commitment of providing Six Flags White Water guests with the best water park in the Southeast."
The two-tiered mat slider will send racers through an intense, snake-like stretch of multi-colored tubes and then into track-like style sprinting lanes and will feature:
A tower standing nearly 60-feet and easily visible from Interstate 75 where the park is located;
Speeds of up to 40 feet per second; and
Six aero-dynamic designed water toboggans for the ultimate competing thrill.
Six Flags White Water and Wahoo Racer will open for the 2016 season in mid-May. For more information about Wahoo Racer, the recently added 100-foot tall Dive Bomber and other exciting attractions at White Water, visit www.sixflags.com/whitewater.