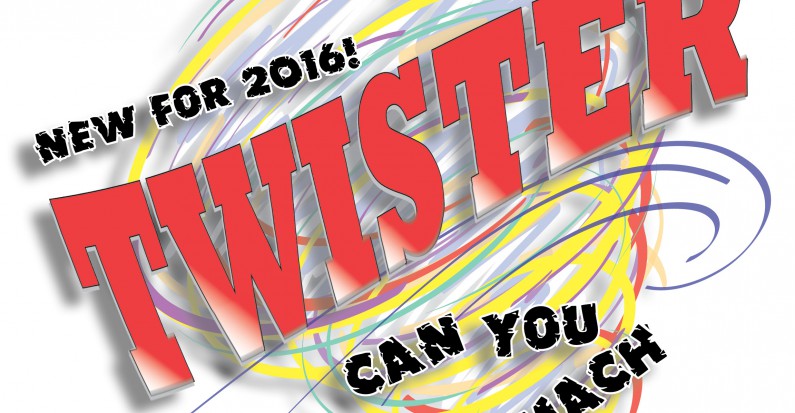 Lake Winnie Announces "Twister!" for 2016!
Lake Winnepesaukah, the South's favorite family amusement park, and SoakYa, the South's newest water park, are gearing up to offer a variety of thrills and spills in 2016. SoakYa brings new waves of fun to park guests alongside classic attractions such as the antique wooden Carrousel and the world-famous wooden Cannon Ball roller coaster.
New in 2016, Lake Winnie's guests will be whisked into the wicked whirls of the wild new Twister! A thrilling new attraction, Twister promises breathtaking action as guests are lifted into the air, flipped, turned and somersaulted into the Chattanooga sky! "This is an exciting addition to our ride lineup," stated Talley Green of Lake Winnepesuakah. "We know our guests are going to 'flip' for it!"
Guests can still maximize their thrills for the upcoming season by purchasing a 2016 Passport To Fun! "Each Passport includes multiple visits for one guest to enjoy all Lake Winnepesaukah has to offer," offered Green. If purchased by May 27, a guest with a Passport to Fun will receive eight (8) visits to Lake Winnepesaukah Amusement Park including unlimited rides and use of the Soak Ya Water Park for the discounted price of only $90.90. "The Passport To Fun is the best way for our guests to maximize their value, their fun, their thrills, and their twists aboard the new Twister!" added Green.
Lake Winnepesaukah Amusement Park will open for the season on May 5, with all the rides, games and food ready for fun for all ages! The splashtacular attractions of SoakYa Water Park will open on Saturday, May 28. Parking is always free at Lake Winnepesaukah! Lake Winnepesaukah was named one of America's top 10 favorite family amusement parks by Travel and Leisure magazine and was featured in the documentary "America's Great Family Amusement Parks." For more information, visit www.lakewinnie.com or call 1-877-LAKEWIN.