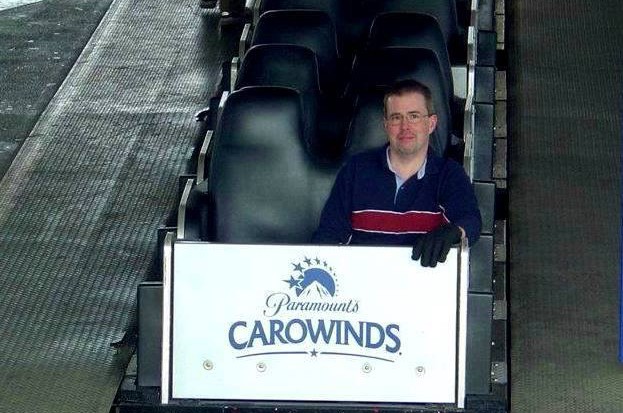 We here at ACE Southeast have lost a member of our family. Assistant Regional Rep Max Cannon passed away earlier this afternoon due to complications from a previous surgery.
Max wasn't just a part of our Rep team though. He was a friend to everyone who met him (coaster enthusiast or not) and his quick witted humor and charming smile will be sorely missed, especially at our regional events.
His last attended regional event was the 2014 Carolina Coaster Classic – an event that he was instrumental in creating some 12 years ago – and his Scavenger Hunts were something that only someone with a diabolical mind like Max's could create.
Speaking of the Carolina Coaster Classic, when it rolls around in 2015 it will sport a new name for its 13th edition, The Max Cannon Coaster Classic, in remembrance of its creator. In addition to the name change, we will also leave his favorite seat empty for the first lap on the first train of Intimidator (Max's favorite coaster at the park) during our ERT session in his honor. While the name change will only be for one year, we will continue the Intimidator empty seat in his honor indefinitely.
Max – you will be missed dear friend and the only words of comfort I can find solace in come from Dr. Seuss himself.
"Don't cry because it's over, smile because it happened."
Thanks for the giving us plenty of reasons to smile good buddy.